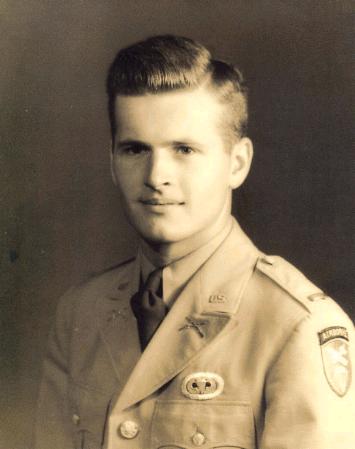 (As made by Robert Perdue, WW2 veteran of F Company, 506th PIR – 101st Airborne Division, to 4th Battalion, 64th Armored Regiment)
Several months ago, Chaplain Harms asked me to come and tell you what it is like to go into combat the first time so as to relieve your anxiety.
Why me? There are plenty of veterans and soldiers in your division who have had more combat experience than I. Chaplain Harms told me he wanted a WW II veteran —he wanted me. I told him I would consider it and get back to him.
I had two haunting questions! How could I say no to the great nephew of a soldier who saved my life in WW II and subsequently lost his ? How could I say no to the 3rd Infantry, the unit my grandson served with in Iraq?
A few days later our Pastor's sermon was titled "Feeling Anxious"! It was based in part on Psalm 55 which is almost unbelievably appropriate to this situation. It was as though God hit me over the head and said: Do it! So here I am.
I want to relate a few of my experiences so as to make two points and then try to anticipate some of your questions.
In November 1942 I was a student at Western Maryland College. Along with most other freshmen I joined the Enlisted Reserve.We were told we could finish our first year of College. In the military's inimitable fashion, we were called in February to report to Fort Meade, Maryland, where we were inducted with other students from William and Mary and Gettysburg Colleges.
They were a great bunch of guys. We were sent to Fort Eustis, Virginia, for Anti-Aircraft basic training where we were together in one platoon. A few days later we were asked: "Who wants to go to Officer's Candidate School?" My friends raised their hands – but not me. I had no desire to be an officer.
Much to my chagrin, my friends were moved to another barracks and I was left behind. So I went to the Battery office (remember, this was the artillery) and said I changed my mind and would like to try OCS. I hoped I would rejoin my friends but that did not happen until 8 weeks later.
So I ended up at Camp Davis, North Carolina, and later was commissioned a 2nd Lieutenant and assigned to a unit that would soon go overseas. I was a 19-year old, bright young fellow, very competent with the 40 mm Bofors and 50 caliber machine guns.
But by this time we had mastery of the skies in Europe and Ak Ak artillery officers were no longer needed. I was detailed to the Infantry and sent to Fort Benning, Georgia, for Officer's Special Basic Infantry training. The word "training" was used loosely because it was not very effective. We sat in bleachers and watched demonstrations of squad and unit maneuvers. And I can't say we took it all that seriously. After all, we were all well-trained artillery officers and now we were in the infantry.
This all leads to my first point. My infantry training left much to be desired. In contrast, you are part of the greatest army the world has ever known. And you are members of one of the best divisions in that army.
In my day, the typical infantry platoon carried M1 rifles and had a mortar unit and a 30 caliber machine gun unit. I carried a carbine and a 45 caliber pistol. You will benefit from absolutely phenomenal improvements in military technology. You will have phenomenally accurate and effective artillery, armor and air support. You are superbly trained and have first-class leaders. All this increases your chances of surviving whatever lies ahead.
Try this scenario: You drive across the country to Los Angeles. What are the chances you arrive without a fatal accident or one in which you are seriously injured? Perhaps somewhat better than your chances in Iraq. Then you arrive in Los Angles! According to a story In a recent U.S. News and World Report, LAPD Chief William Bratton stated: "Outside of New York, al Queda isn't killing people [in the United States]; gang violence is."
And, look at this, a cartoon from a recent issue of the Washington Times ! It shows a bearded CIA agent reporting to headquarters on a cell phone. In the background smoke is rising from a demolished building and there is rubble all around. The agent reports: "Iraq's future looks bleak-infrastructure's gone, no security, people scared" And a voice comes back to him: "You're in Los Angeles Griswold." You survive our highways by being alert and your chances in Iraq will be all the better if you remain alert.
And now a question: What would have prepared me better for combat? The answer is, on the one hand, training training training, the kind you have had and, on the other hand, my total attention and focus on the training opportunity I took so lightly.
Let's talk about fear. Will you be afraid? Will you know fear? You can count on it. You most certainly will because it is a normal human emotion.
A few weeks ago I was in a doctor's office and picked up a magazine I had never heard of, called Fast Company. What initially caught my attention was a blurb on the cover, "Why Guts Matter", referring to an article by Senator John McCain. I turned to that article and saw a "pull out" in big bold print, quote: "Don't let fear convince you that you're too weak to have courage. FEAR IS THE OPPORTUNITY FOR COURAGE, NOT PROOF OF COWARDICE."
On September 17, 1944 I was with the 506th Parachute Infantry of the 101st Airborne Division and parachuted into Holland near the town of Son. Our battalion's mission was to take a bridge there and then the bridges in Eindhoven, a few miles to the south.We reached the suburbs of Eindhoven the following day and were held up by two German 88s.What happened next I had completely forgotten and was reminded of that event 50 years later when I first read Rendezvous with Destiny, the history of the 101st Airborne Division. The section on "The 506th takes Eindhoven" tells how the battalion veered off to the left and my platoon later peeled off to the right to come in behind those two guns. The book relates how Lt. Hall with one squad and Lt. Pardue with another squad knocked out those two guns. Lt. Pardue! That's me. They had misspelled my name. I don't recall being fearful that day. Had I been so I would remember it. I was not afraid because my mind was focused on the immediate action, not on what might happen 10 minutes or 10 days later.
Many of you must have seen the film Band of Brothers. I will tell you that E Company did not win the war alone; F Company was there also.
But, oh, a few days later, the night of September 22. My company was on the line just outside the town of Veghel with my platoon on an open left flank. I was asked to patrol out to our left to locate the unit on our flank. I called for a volunteer and Sgt. Bob Janes stepped forward. Bob would later say we walked for several miles and the Krauts were so close we could smell them. I think we probably went out less than 1000 yards. Were we scared? You better believe it. We could hear German tanks or half tracks maneuvering for the attack that would come the next morning because there were no friendlies there. I learned much later they were on the opposite side of the town.
It didn't help when we heard clop, clop, clop behind us. It was a cow that wanted to be milked. I told Millie to go away but she only spoke Dutch. Finally, I took out my 45 automatic, unloaded it and hammered her on the head and she said Bye Bye. Two very scared guys returned to their position and the Germans did come around that open flank the next morning. I was at the end of our position. I soon took a bullet through my knee and holed up in a Dutch barn.
The rest of the Platoon retreated and took several casualties as they crossed an open field. One other man stayed behind and from a second-floor window killed the commander of the German half-track force that had attacked. They retreated. That soldier saved my life.
My point is this. Yes, you will know fear but you are not alone. In unity there is strength, safety and success.
After Veghel I was out of action for about 4 months and missed the "Battle of the Bulge". I rejoined my regiment at the town of Haguenau on the narrow Moder River in eastern France. We lobbed artillery and mortar shells at the Germans and they did the same to us. We weren't much more than 50 yards apart. And each night we patrolled across the river. A few days before we returned to our base camp I was told that two nights later I would take out a patrol. Talk about fear. I shook in my paratrooper boots those next two days. At the last minute, plans changed and the patrol was led by a Lieutenant with the Recon Platoon, a recent West Point graduate. And he was killed before the patrol reached the other side of the river.
My point is: Don't worry about what might happen. Live for the moment and again, stay alert.
I have been asked, how were things then in comparison with now? In Holland it was cold and wet. In Iraq it will probably be hot and dry. But more importantly, you are superbly trained and will benefit from so much new technology. And I don't mean just military technology. Should you be wounded you will have the best medical technology the world has ever known.
And what was I thinking as I went overseas? I didn't give it a lot of thought. It was an adventure. I traveled to Europe on the America, the greatest and most modern passenger ship built in the U.S. It was like a 5-day vacation cruise. Today, things are different. You will fly over. In my day we saw occasional newsreel coverage of the war. I am sure you have seen plenty of TV coverage, some of which, if not live, of events that happened only a few hours before. Don't let this discourage you. TV news focuses on the negative; you see little of the good things that are happening.
Did we believe in what we were doing? Absolutely! There were plenty of complaints, about things like the food, the shoes, and on one occasion, even bed bugs. But I never heard anyone question our goals and motives. We had a job to do and we did it.
Was it worth it? Of course! What choice did we have? We were removing tyrants. What choice do you have? You will be removing a different tyranny and creating the opportunity for freedom and democracy.
I have no regrets about my military service. I am honored that I had an opportunity to serve. Furthermore, I entered the service as an immature 18-year old. I left as a 21-year old man. I had matured. At 18 I was a failing college student. The GI Bill covered my post-war university cost where I graduated with honors and permitted me to go on to earn Master's and PhD degrees, followed by a rewarding career.
You are all patriots and my heroes. Our country may not be perfect but it is worth fighting for and we will prevail. God bless you. God bless your Commander-in-Chief and God bless America.
Robert E. Perdue, Jr.