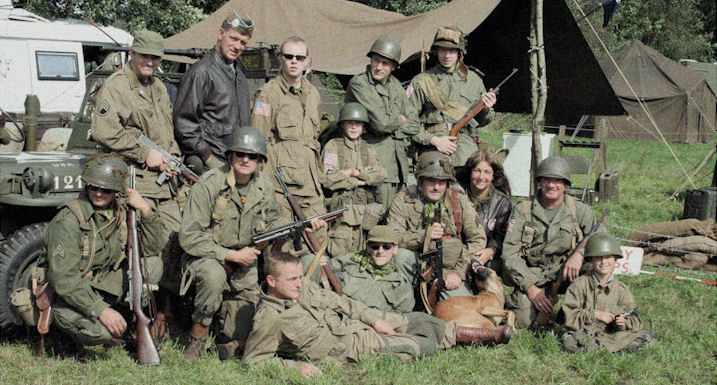 The Screaming Ducks go back to the 1990′s. Way before the mainstream re-discovered the 101st. Based on friendship the Screaming Ducks later became an official registered association. On April 17th 2003 the Living History Vereniging 'Screaming Ducks' was founded in Arnhem.
It is never about us, always about the heritage of freedom, and the spirit of a generation. Started with 3 friends, the association quickly grew.  A Band of Friends ready to show and tell the world about Them who fought for our Liberty !
The name Screaming Ducks was chosen because of the 'slang' name for the 502nd, dating back to WW2, the Five-O-Deuce or Five-O-Ducks (source: Rendezvous with Destiny).
Screaming Ducks !!!
We are dedicated to preserving and using Military Vehicles, Uniforms and Gear from World War Two, as well as Research in – and Commemoration of – the men who risked their lives for global freedom. We attend and organize Historical Tours and Living History events and participate actively in the contacts with WW2 veterans. The 101st Airborne Division is our main area of interrest. We have adopted gravesof Paratroopers on civil and military cemeteries and attend WW2 commemorations. Static shows, rolling trough the bocages or across wide beaches: The roar of Living History !!
The Screaming Ducks are specialised in complete WW2 US Paratrooper Display. Vehicles, Campsites and Gear. Many of our Friends come and visit us at such occasions as our 'Family Day'. We hope to see you on the Road, somewhere in Europe or at one of our displays ! KICK OFF !!
For specific questions on the Screaming Ducks: Info@screamingducks.com