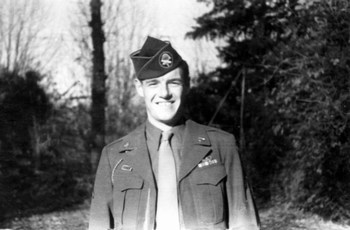 John Sherman is the son of immigrants from England and was born 14 November 1923. Jack as well as all four brothers served in the army and he was inducted in October 1943, a month before his 20th birthday.
In July 1944 he was assigned as a replacement to "G" company, 327th Glider Infantry Regiment, 101st Airborne Division that had suffered heavy losses during the invasion of Normandy.
Jack entered combat as part of "Operation Market Garden", the airborne invasion of Holland, on September 18th, 1944. After a glider landing near Son, Holland, Jack would spent 70+ days in combat before his unit was brought back to France for refit.
Jack and the 101st Airborne Division would later fight in the Battle of the Bulge, through Southern France, Germany and Austria, capturing Hitler's infamous "Eagles Nest" in Berchtesgaden, Austria.
After hostilities ended Jack would serve in occupation duty in Austria. When the 101st was disbanded, Jack was transferred to "G" company, 325th Glider Infantry Regiment, 82nd Airborne Division. He would return home to the US with the 82nd and marched with them in the WWII Victory Parade in New York City on January 12, 1946.
On September 23, 1943 Jack volunteered to be inducted into the US Army after being deferred for 18 months by the Hudson Ordnance Plant in Warren, Mich. His position was labeled: Crucial to the War Effort. On October 14, 1943 Jack reported to Ft. Custer, Mich. for duty.
Within one week Jack was on a troop train heading for Infantry Base Training in Camp Wolters, Texas. It was there Jack started a 17-week basic Infantry training.
A mean looking and acting Sergeant named Sgt. MacArthur was the first instructor Jack had.
One day early in the training Sgt. MacArthur had Jack plug up the drain in the large shower in the barracks and let the water run to the top of the shower dam (about 3 – 4 inches deep). Then he made everyone walk in the water with the boots on until they were soaking wet. After that they went on a 10 mile hike to walk them dry. The sergeant said that it would prevent us from getting blisters, and it did!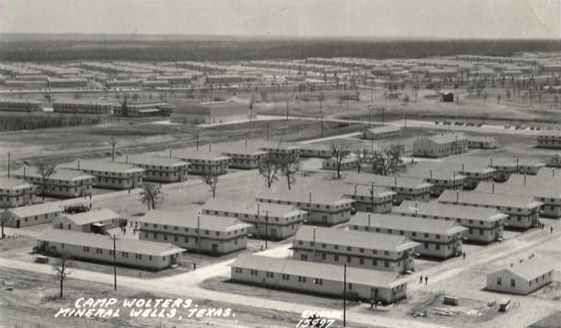 After basic training the group was shipped out. Jack was promoted to Pfc and assigned to stay as a cadre. Jack was assigned to a newly formed battalion as instructor with the duties of "acting Sgt." This training course ended about the time of D-Day, the Normandy invasion. Jack was issued a 10-day "Delay in Route" and was ordered to report to Camp Kilmer for overseas duty. Most of the time Jack spends with his girlfriend Phyllis Jarchow.
Before Jack boarded a US Navy destroyer, he was loaded aboard on a stinking, dirty British Merchant ship in New York Harbor. The smell was sickening, because the ship was so overcrowded. The smell of the galley was enough to make you throw up. They were aboard for about 2 days waiting for the convoy to form up. Jack knew he would never survive the trip. As luck would have it as the tugs were pushing the ship out into the harbor, they were rammed by another ship and had to return to the dock and the back to Camp Kilmer. Jack considers this is a lucky shipwreck.
After 11 days on a US Naval destroyer, they were landed in Cardiff, South Wales and then by train to somewhere around Southampton, England to a "Repple Depple" (Replacement Depot). Jack was issued a new M-1 Garand riffle that was loaded with very heavy, sticky, smelly grease. Within a few days or so Jack was told to look for his name on lists that were tacked on the long row of bulletin boards, then report to the area designated. A search of the lists did not reveal his name so he waited.
After a long time Jack was loaded onto a train with all black out precautions. When the train came to stop Jack raised the curtains to see a long platform with officers in Class A uniforms standing at even intervals. They were told to exit the train and get into formation as called in front of an officer. One of the officers hollered out: "Welcome to the 101st Airborne Division". Jack and his big mouth could not help himself and said:"B..S.. you have to volunteer for the airborne!" The officer replied:"You just did!"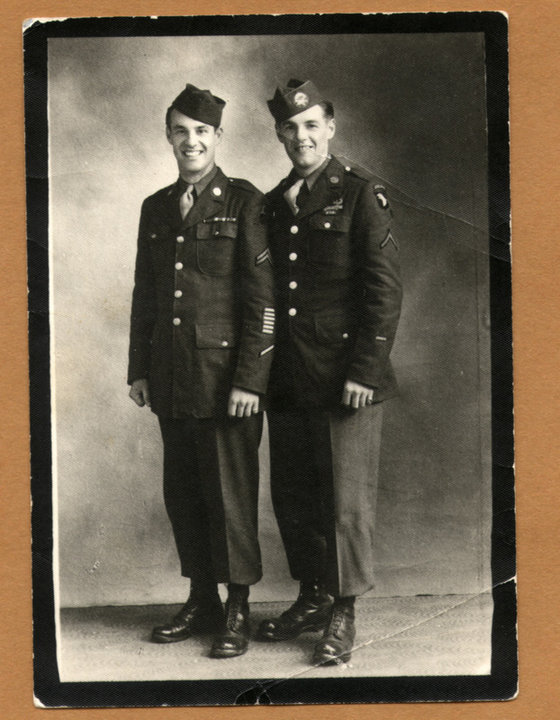 Jack was near reading, England. Units of the 101st were scattered around in nearby towns. The division had just returned from action in the invasion of Normandy. They had been kept in action longer than they should and had suffered heavy casualties. Jack was one of the replacements. Jack was assigned to "G" company, 327th Glider Infantry Regiment, 101st Airborne Division. Jack was a runner / rifleman assigned to company HQ. His main duties were company HQ security, carry messages for the company CO to where ever, along with bringing up replacements, temporarily filling in for missing team members and whatever else they could think of. Jack had limited contact with Capt. Evans the company CO, but dealt more with 1st Sgt. Hayden.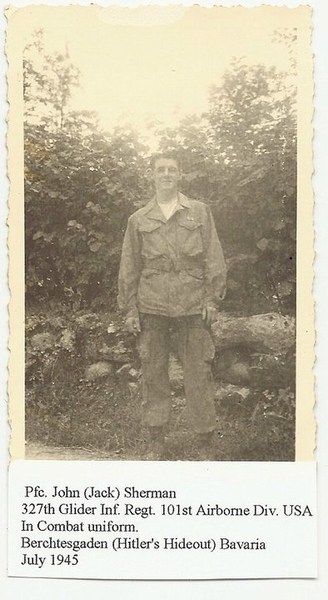 During the short time that Jack was with the unit before going into Holland, Jack's first time in a glider, he only saw the frame of a glider one time and watched a demonstration on how to tie down cargo for a flight. That session only lasted an hour, so much for the specialized training for glider troops!
Being a replacement was for Jack a very strange experience. Jack describes the feeling as you are treated like a needed but unwelcome person. When Jack threw away his little packet of Nescafe powdered coffee from his K-ration, several of the guys were nice to him and offered to take his coffee if Jack didn't want it. Being a replacement didn't matter than.
Jack got to know a few of the old timers mostly by sight and not by names. They were a great bunch of guys that Jack always knows he could depend on but could never get close to.
A few times during battle Jack had to make a run to pick-up replacements behind the lines, that was always a hectic chore. The truckers that would deliver the replacements stayed as far away from the frontlines as they could. They were in a hurry to drop their load and get out of range.
Jack picked up about 16 replacements after Bastogne; he had to go back 2 or 3 miles to the drop off. They were young with all new overcoats and numbers chalked on their helmets. They were nervous, all talking at the same time, smoking and bunching up. Jack had to line them up, get their attention and tell them that they could them all killed if they did not follow his orders. Jack got them to the unit and they were assigned to various squads. That night they got hit and several of the replacements were no longer with them.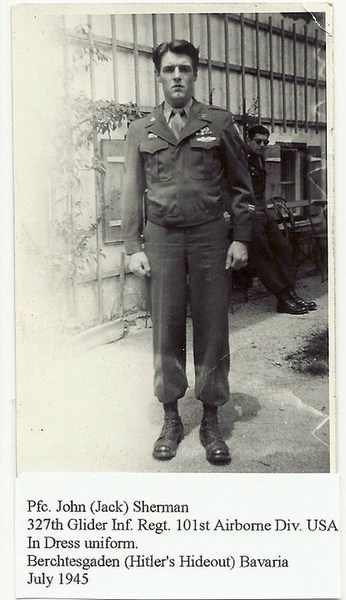 Soon after the 101st was relieved at Bastogne and Gen. Taylor returned to retake command off the 101st, they were moved down to Southern France in the area of Haguenau to ward off an expected attack in that area. Gen. McAuliffe was getting too much press for his performance at Bastogne, so he was given command of the 103rd ID that was also assigned to that same front. Jack's brother Ken (a.k.a. Butch) was a rifleman in the 103rd Division.
The 101st just arrived in the area and Jack was assigned guard duty at the company CP. While on duty, it was turning dusk, Jack observed a jeep drive by to his front. Jeeps were a bit rare in Jack's outfit so he thought it might be a ranking officer and kept an eye on it. For some reason Jack thought:"That looks like my brother and yelled "Hey Butch". The jeep came to an abrupt halt and backed up a bit. As soon as the driver's feet hit the ground, Jack knew it was his brother Ken. Ken's first words were: "Damn it Jack, when are you going to shave?" The paths of Jack and Ken crossed a couple more times before they came home but nothing matched that meeting while Jack was on guard duty.