Sometimes we tend to forget that children are amongst the most vulnerable individuals in any war. For young children in The Netherlands it took 4 or 5 years before they enjoyed the privilege of freedom ! They grew up in a country that was occupied, and during the last years food had become scarce. Many people suffered from a lack of decent (warm) clothing, and proper heating in their houses.
This kid did survive, as far as we know, but the picture is a wake up call for all of the spoiled brats out there that complain they have not enough games for their Playstation… This picture was taken 2 generations ago, when a hoop was a toy, and kids were dreaming of proper food and clothing.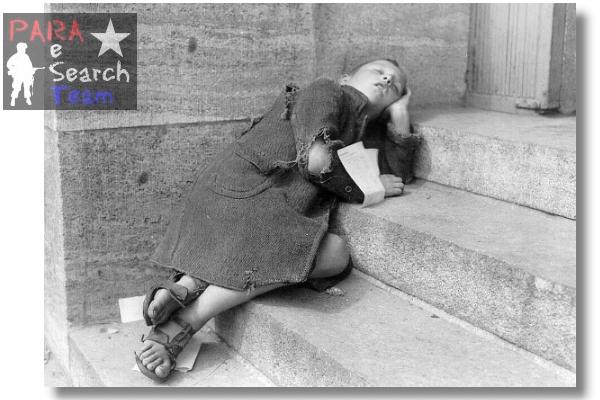 So the children of the Netherlands had no idea what real chocolate tasted like, let along did they  ever had a piece of chewing gum in their mouth. This all changed when the first Allied Troopers came to the Low Lands during Market Garden. The British Paratroopers handed out some of their Cadburry Chocolate Bars, and the US Paratroopers were generous with some of the candy items they found inside their Rations; Charms Candy, Chocletto's, Hershey Bars and Chewing Gum like Wrigleys sticks, PK Gum etc.
In the next picture a Dutch girl is handed out a stick of chewing gum from an American Paratrooper.  His buddy;s are watching, one is behind the barbwire fence, two at the troopers side. The scene looks very peacefull, but the Paratroopers index-finger is curled around the trigger of his sub-machinegun. The Troopers are also equipped with gas-detection brassards covering their Divisional sleeve patches.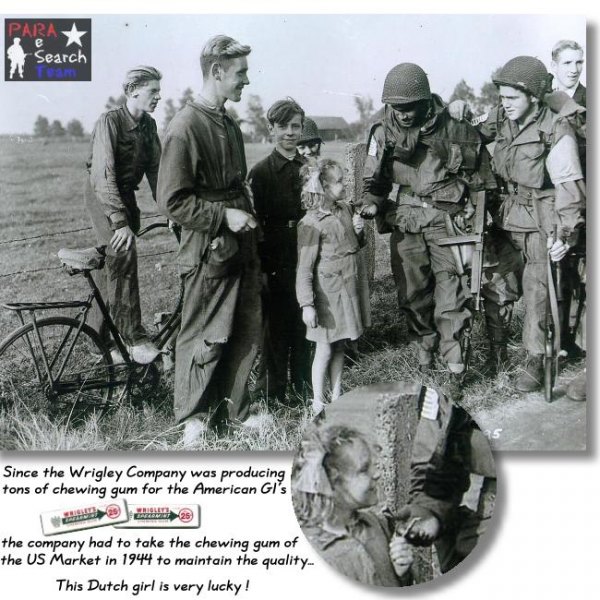 This girl will always remember the first taste of chewing gum.
Kids are curious. They just want to know everything, investigate in their own way, and… do so !  What are these kids thinking ? Those foreign soldiers with those funny baggy uniforms, chewing gum and handing out all kinds of candy, what are they doing ? What is that carried on this mans back ? It looks like a radio with an antenna, with a telephone attached to it, and it makes a funny noise. At this time the population of the Netherlands was not allowed to listen to the radio. As a matter of fact private radio's had been taken away by the German occupation force. Illegal radio's were stored in hideouts in and around houses to tune in secretly to broadcasts of 'Radio Orange'….
The radioman in this picture is rumoured to be Colonel Johnsons (501st PIR – 101st A/B) radioman. The picture has been censored by Army Officials. The Screaming Eagle Patch is still visible though. The 'tick' near the helmet decal seems to indicate a tick at 12 o'clock: HQ or HQ Company men !
After the liberation it still took a while for things to come back to 'normal'. But in the end kids had to go to school again and the infrastructure got renewed. New bridges replaced the bombed ones, railroads were fixed again and buildings rose were rubble marked tragic stories out of a dark period.
In this next picture a US Paratrooper returns to The Netherlands, to Opheusden, where he made history with the Screaming Eagles. Let's call him Trooper C. After WW2, in the end of 1945, the 101st Airborne Division was de-activated. Mr. C. decided to join the 1st Infantry Division where he became a sergeant. On leave (from Germany ?) he travelled back to the former Market Garden battle area and found himself posing with local kids on a bridge in Opheusden. A few meters in front of this location is the very spot where Major Oliver Horton was KIA, September 1944, by a mortar grenade, crossing the railroad. Today the bridge has been replaced by an iron-frame bridge with a plaque remembering Major Horton. Major Oliver Horton served with the 506th Parachute Infantry Regiment, 101st Airborne Division.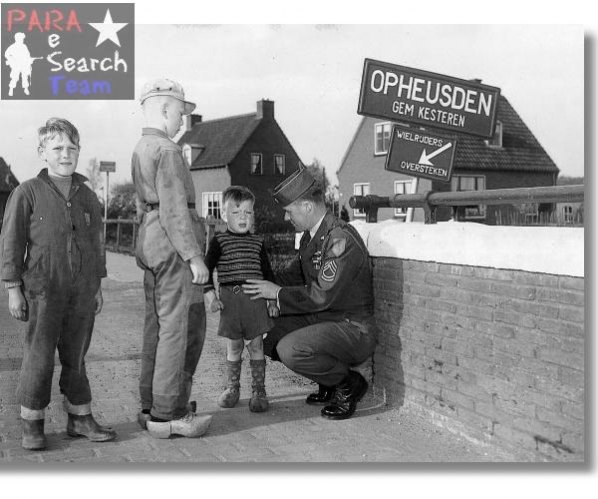 The last picture depicts our friend in a comfortable chair. The kids are of to bed and the former trooper talks with an friend from 'back then' about the past and the future. The Screaming Eagle can be seen on his dress jacket, the 'Big Red One' patch has been stitched to the other shoulder. Unique pictures…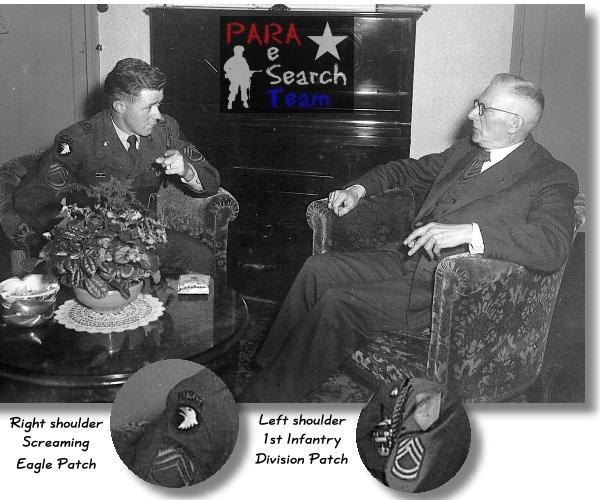 Sources: US National Archives