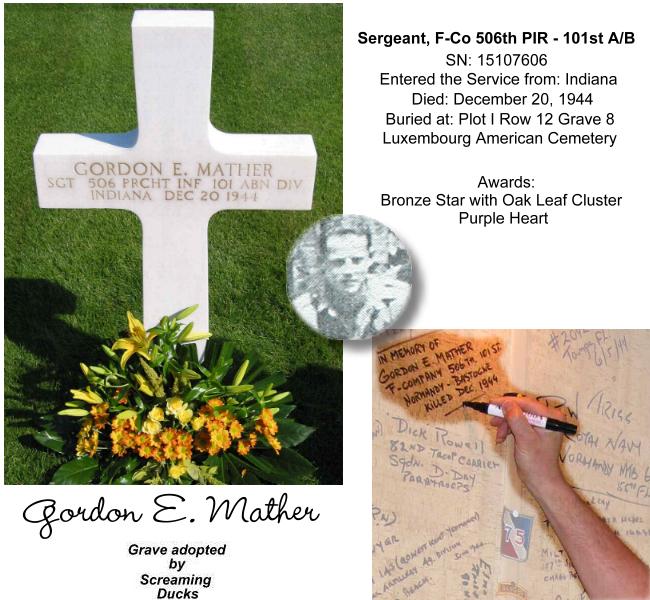 In December 1942 Gordon E. Mather was a corporal in F-Company commanded by Captain Thomas P. Mulvey.
During his training he followed 'Fox' from Alabama to Ft. Benning, from Camp McCall to Sturgis Kentucky.
After the Tennessee maneuvres 'Fox' went to Ft. Bragg until they went to New York in August 1943.
Once in England, Mather and his buddies were based in Aldbourne (Wiltshire) near Reading (newbury).
On D-Day, Gordon E. Mather was the 1st Squad Sergeant and forlast jumper (nr. 16) in stick 74.
During the Market Garden jump Mather was jumper nr. 13 from Dakota tailnr. 224069 (chalk No. 83)
Gordon was KIA during a patrol near the Foy railroad, when the patrol was gunned down by a German MG.
One of his buddies remembers that Gordon used to quote:
'It is far better to reel across the Sun in one Blaze of Glory…
than to sip pale years and cower before Oblivion'
Here is to Gordon !
Airborne Forever
We are proud to be able to cherish his final resting place.