The quest for information on our first adopted grave (See below) of a 502nd PIR Trooper
2007: Airborne Memorial Path
On June 6th, 2007 the WWII Memorial Museum at Carentan (Normandy, France) will be opened…
In front of the museum a permanent Memorial: the Airborne Memorial Path, a lasting memorial
on the very ground were battle once raged. The screaming Ducks have donated a Stone in the
memory of Eugene Ovid Lambert. This Paratrooper lives on forever, amongst the other 'Finest'.
2005: Eugene ID
Finally we have gotten a positive identification of the face belonging to our first adopted grave; A-Company's 502nd PIR Private E. O. Lambert.
With help of his family from the US (traced with the help of our friends abroad) we were handed this picture of Eugene. He is no longer just a name on a stone for us… This year when we will visit his grave, we can put a picture beside the grave, next to the flowers.
Private Eugene Ovid Lambert, A Company 502nd PIR 101st Airborne Division. KIA for our Freedom, June 1944.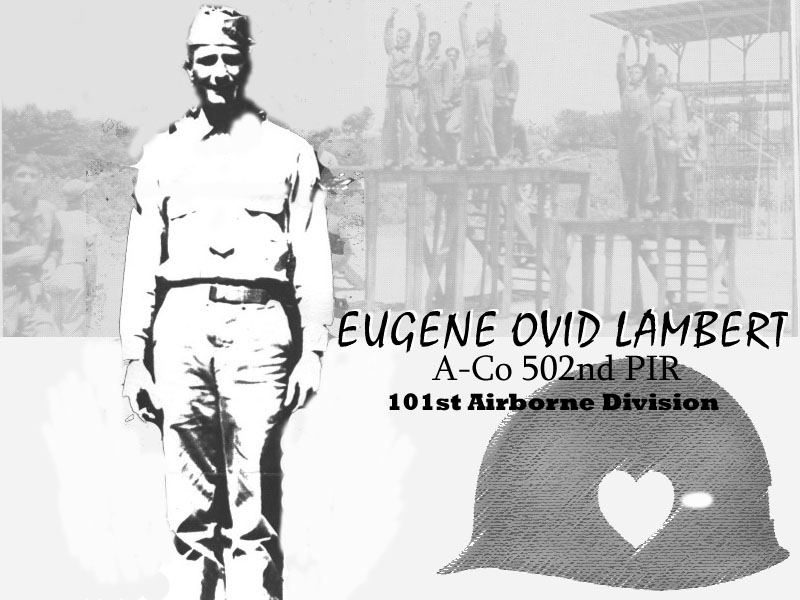 And finally a positive ID on the England 1944 picture ! Second row, second from the right !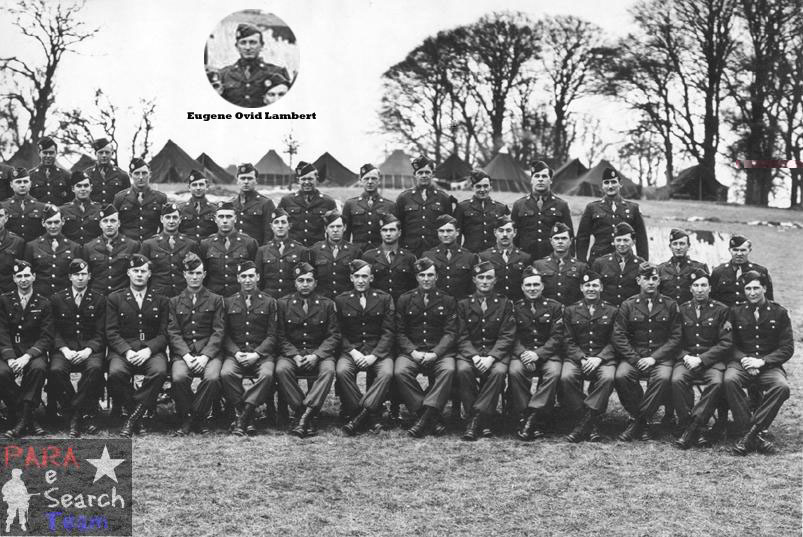 December 2004 update
MetroWest Daily News, U. S. A. – December 2004
Life of paratrooper killed on D-Day brings together family & strangers
By Jennifer Kavanaugh / News Staff Writer
Tuesday, December 21, 2004
MARLBOROUGH — Although Eugene Ovid Lambert died more than 60 years ago in the D-Day invasion of Normandy, people on both sides of the Atlantic had journeyed into the life of the Marlborough paratrooper on parallel paths that seemed destined never to connect. Lambert's brother Carl, a Marlborough resident, certainly had not forgotten him. The city's veterans agent, Gary Brown, was researching Lambert's military service for a Veterans Day ceremony. An ocean away, a group of Dutch history buffs (The Screaming Ducks) had been on a three-year mission to discover Eugene Lambert's story. And then there's the young woman from Boston, who by accident of her last name, helped bring all of them together.
"It's mind-boggling, when you think about all of the coincidences," Brown said. Brown's Eugene Lambert story began earlier this year when he and the local veterans council decided to honor Lambert, a 25-year-old paratrooper with the 101st Airborne Division who died June 6, 1944. Brown was assigned to research the details of Lambert's death, and arranged to get a framed photo of Lambert's grave in the Normandy cemetery. The veterans thought it would be a nice thing to do for Eugene's brother Carl, a Korean War veteran who always drives the mothers and widows of fallen soldiers in the city's parades. They gave the picture to him after last month's Veterans Day parade. Around the same time, Brown got a call from Eileen Lambert, who explained she was from Boston and was trying to find Eugene Lambert's family on behalf of a Dutch group. She asked him all kinds of questions about the man and hisfamily, which he was able to answer because he had all of Eugene Lambert's information on an index card on his desk. "I said to myself, 'Who the heck is this woman?'" Brown said. Eileen Lambert was an unsuspecting computer programmer living in Boston when the first letter arrived from the Netherlands more than a year ago. A group calling itself the Screaming Ducks wrote it had adopted the grave of Eugene Lambert and was looking for his relatives. "I honestly thought they sent a letter to everyone in Massachusetts, whose last name is Lambert," she said. Eileen Lambert was not related to Eugene, but was intrigued enough to start e-mailing the group's leader, and on a lark decided to meet up with them in Normandy last June (2004), during the 60th D-Day anniversary.
She learned that the Screaming Ducks named themselves after the Screaming Eagles, or the 101st Airborne, and that they hold history events, ride in World War II vehicles, dress in period military clothing and research the war. Most of them were born long after the war ended, she said. "These guys grew up with all of this stuff drilled into them," she said. "They spend all of their weekends and free time educating people and making sure people never forget." When the Ducks told her Eugene Lambert came from Marlborough, she called Brown to see if he could help. She was amazed he could instantly recite the man's information, and they arranged to meet. Her job was to deliver to Carl Lambert a "thank you" gift from the Ducks, a package that appeared on her doorstep with 27 Euros' worth of postage. "Their hobby is to make sure no one ever forgets what the U.S. did," she said. Last Friday, Carl Lambert sat in Gary Brown's office, wondering what to expect. He does not know exactly what happened to his brother, and thinks "he probably got shot in the sky." He had never been to Normandy and had no idea why a group of Dutch people had taken so much interest in his brother. "I was blank," he said when he heard about what the Ducks were doing. "I didn't know what to say." Eileen Lambert arrived with a wooden crate, and Brown unscrewed the top. The box contained military supplies, such as soldiers' foot powder and an empty pouch bearing the word "morphine." The box also held two group photos of 101st Airborne members, and the Screaming Ducks asked Carl Lambert to identify his brother. He pointed to a man standing at the right end of the photo, but the passage of six decades and a grainy black-and-white image made it difficult. "I can't swear, but God bless, it could be him," he said. By the end of his meeting with Eileen, Carl Lambert's skepticism had changed into emotion for a group he had never met, thousands of miles away. "I think it's beautiful," he said. "Yup, I do. I don't have enough words."
In an e-mail last week, Sybren van der Velden, chairman of the Screaming Ducks, said his group of 20 people is dedicated to living history and educating people about the contributions of the 101st Airborne Division. Van der Velden said the group wants to remember "the men and women who gave and risked their lives for our freedom," and to help prevent something like that from ever happening again. The Ducks have adopted 13 World War II graves, and their goal is to adopt at least one grave in every military cemetery in Europe, van der Velden wrote. Eugene Lambert's grave was the first they adopted, he said. The group then conducts research on each of the soldiers whose graves have been selected. "By finding family, we want to tribute the men who died in WW2 and whose graves we adopted," he said. "We hope they can tell us something about their beloved and give them a face for us." Van der Velden said the group sent out 86 letters to people named Lambert in Massachusetts, and were fortunate that Eileen Lambert volunteered to help them. Now that they found Carl Lambert, he said, they want to maintain the connection."We hope Carl can tell us about Eugene," van der Velden wrote. "Who he was, what he did, why he joined the Army, where and how he died. We also want Carl to know that we will look after his brother's grave as long as we live, and our children will take it over as a tribute to the (sacrifice) Eugene made. We will never forget him."
* Marlborough families who want to arrange for photos of their loved ones' grave sites, can call Gary Brown, Marlborough veterans agent, at 508-460-3782.
** Thanks to: Jennifer Kavanaugh (can be reached at 508-490-7453 or jkavanau@cnc.com)
May 2004 update
With the help of Eileen Lambert we have obtained more information on Eugene Ovid Lambert
Eileen, who is no relative of Eugene in any direct way, traced down one of Eugene's brothers.
Eugene was the oldest of three brothers.
He was married, but did not have any children when he was KIA.
We hope to contact Eugene's brother in the near future.
Below, a unique, (2-part) picture…
A-Company 502nd Parachute Infantry Regiment – 101st Airborne Division 'Prior to D-Day, spring 1944, Fieldcamp, England
One of the men below is trooper Pvt. Eugene Ovid Lambert
He died on D-Day, and is buried at the Colleville sur Mer
US Cemetery, Normandy – France, amongst his fallen comrades.
We have adopted his grave and pay our respect every D-Day
And we are not alone. There is always a very nice bouqette
of flowers, delivered to the US Cemetery for him, annualy.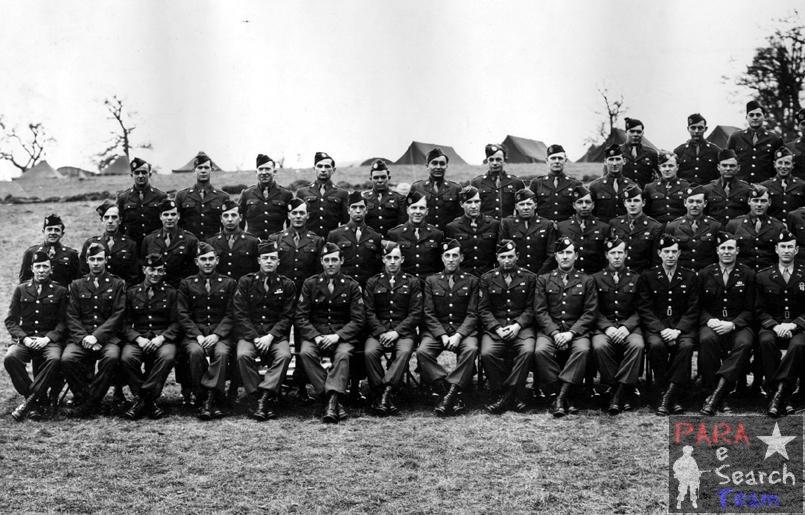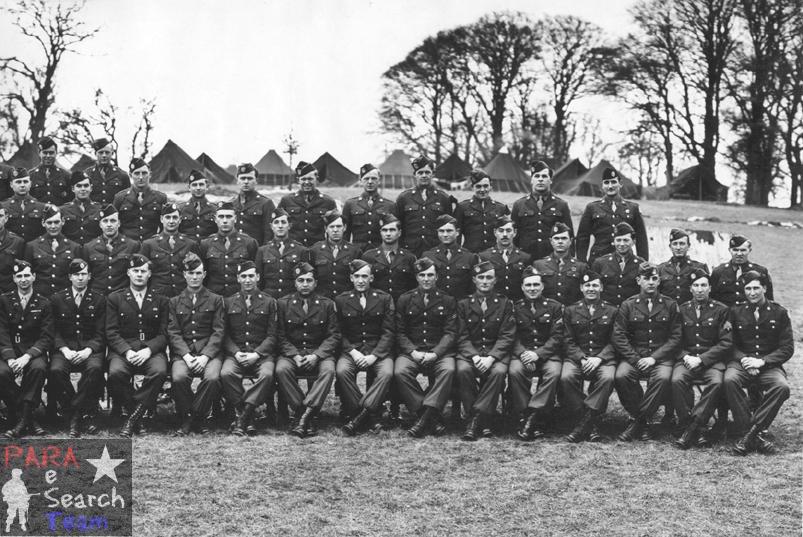 Maybe you can help us get in touch with his next of kin ?
The Flowers on his final resting place, each D-Day, indicate
that there is someone out there who hasn't forgot this Trooper.
We want to find out more about this Paratrooper and have just
about tried every possible resource. Now we ask all of you to
help us out. Who is Eugene Ovid Lambert ? You can mail us here.
On the 3rd of February 2004, a letter was send to us from the Public Affairs
Department of the US Army. Our request for more info on several WW2 soldiers
(including Pvt. Eugene Ovid Lambert) has been received, but will take some
time (about half a year) to be processed. We just have to sit this one out.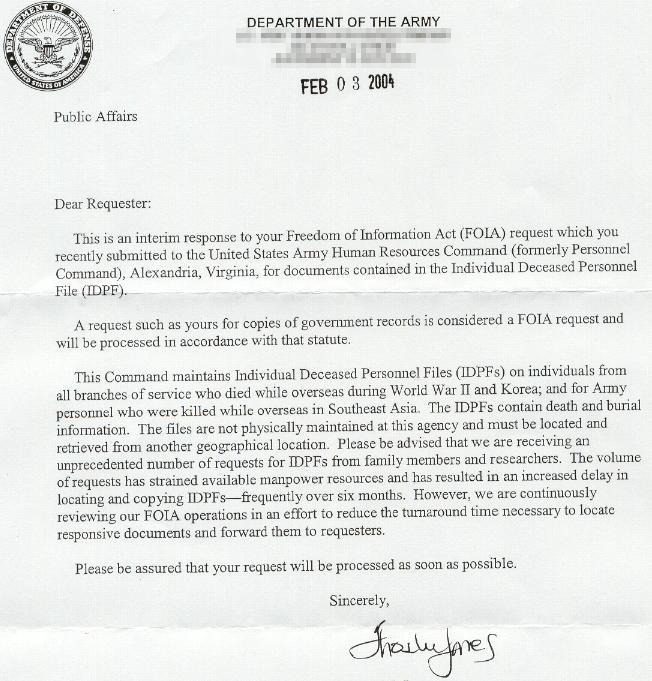 Further information:
Eugene Ovid Lambert (SN 20112187) enlisted in Marlboro MA. and was assigned to:
– 541st Parachute Infantry Camp Mackall, NC
– Co GH 816A AGF Repl Depot Nr.1 Ft. Meade, MD
– 101st AB Div APO 472
– 502nd Parachute Infantry Regiment
Eugene Ovid Lambert received the following awards (posthumous);
– WW2 Victory Medal
– WW2 Service Lapel Button
– Purple Heart
– French Fourage Lanyard
Departure:
`On 5th June 1944 A Company left England from Membury airfield – destination Normandy` ` The 436th Troop Carrier Group arrived at Membury in March 1944 where they stayed for the remainder of their time in England. On June 6th 1944 the Group, joined by the 85th Squadron of the 437th Troop Carrier Group, carried the 377th PFA, 1st Battalion 502nd and 326th Medical Company to Normandy`.
Adopted Grave Eugene Ovid Lambert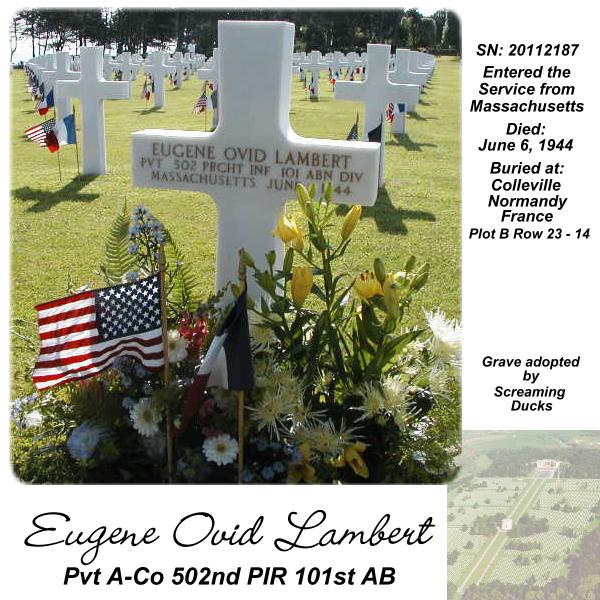 Paratrooper's Prayer
Kind Heavenly Father, our Great God who invites
Follows Me" May we with Stalwart hearts
declare Thee Lord of all.
We ask Thy Holy blessing to rest upon all paratroopers
who are on the path to secure and sustain peace.
May we be ready at all times to boldly stand up
for thy truth and ways and be steadfastly hooked up
to Thy Law and Gospel.
May a primary part of our equipment
be a confident faith in Thee as we stand
in the door of all missions in life.
May the canopy of Thy love
shield and keep us now and forever.
We go in the name of the Father,
the Son, and the Holy Spirit,
Amen.