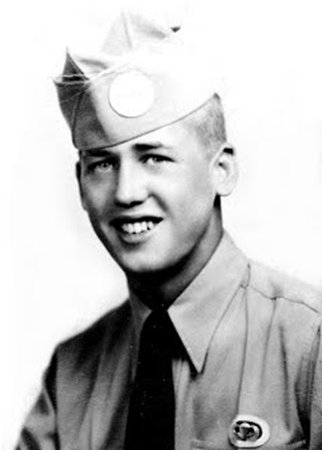 F (Foxtrot) Company 2nd Battalion
501st Parachute Regiment (PIR)
101st Airborne Division
Enlisted at age 18 October 19th, 1943
Discharged at age 20 March 6th, 1946
Battles and Campaigns:
Rhineland (Holland – Operation Market Garden, September 17th – 24th 1944)
Rhineland (Holland – "The Island", September 25th – November 1944)
Ardennes (Belgium – Battle of the Bulge December 18th 1944- January 4, 1945)
On Sunday morning, December 7th 1941, 16 year old Joe McGinley was coming out of Saint Helena's Church in Olney, Philadelphia, when he was told of the Pearl Harbor attack. More upset than he, was his German-born grandfather. It was then that he knew his oldest grandson would have to someday fight against his forefathers.
By seventeen, Joe McGinley walked into a Philadelphia recruiting station and signed on the dotted line to go a few days after his 18th birthday. In October 1943, he was off to Fort Indiantown Gap, Pennsylvania, for two weeks of processing and orientation before the long train ride to Camp Blanding, Florida. There, he received basic Training for 8 weeks near Jacksonville. Blanding, located in north-central Florida, was an infantry replacement training center and already a compound for German prisoners of war.
By January 1943 he was in Fort Benning, Georgia, attending Parachute School and Radio Operator training for 9 weeks. Asked why he wanted to be a paratrooper, Joe said, "It was those shinny boots".
By July 26th, unassigned paratrooper Pvt. Joe McGinley was sailing to England, on the USS George Washington; ironically, a ship captured from the Germans in WWI and used by President Woodrow Wilson for the Treaty of Versailles. The same ship was used by the King of Belgium to return to the USA to thank them for their efforts in "the War to End All Wars".
Arriving in Southampton on August 6th, Joe and other new troopers were trucked to Newbury, where airborne troops who participated in D-Day had been resting and absorbing these replacements. He was then assigned to the 501st PIR. The young private remembered the eerie feeling of taking over bunks and tents of those who never came back. Their clothes and family pictures were still there. Over the next month, Joe made several truck rides to the airfield and loaded onto the C47s, but missions were cancelled because of weather over Holland.
Market Garden: September 17th-24th 1944
On Sunday, September 17, 1944, Joe McGinley and the 501st PIR, under Colonel Howard R. "Jumpy" Johnson, was to take road and rail bridges on the Willems Canal and the Aar River. McGinley's unit, F Company and the 2nd Battalion seized three bridges at Veghel, capturing prisoners.
The Germans fought back against the 101st around Eindhoven, Son, St. Oedenrode and Veghel. On the 22nd, the Germans mounted a counterattack against Veghel supported by artillery and aircraft. The attack was not beaten until two days later.
The 501st had some of their toughest days in our region. Black Friday (22nd and 23rd September) when the Germans cut the Corridor north of Veghel. 2nd Battalion was the unit who warded off the initial attack on the road bridge. They were quickly reinforced by the 506th PIR and 327th GIR. Then there was the 24th of September. This was the blackest day of the operation. The Germans broke through in the Koevering and cut the highway again. This was the final blow of Operation Market Garden. The 2nd Battalion was relieved late on the 23rd of September and was ordered to Eerde to assist the rest of their Regiment because the Germans were pressing very hard on the Corridor again. By the 24th, glider infantry had taken over Veghel, so McGinley's F Company went on to Eerde. They did so by following the railroad to the bridge over the canal. The Germans then attacked his company in Eerde from the nearby sand dunes. In the night they crossed the railroad bridge. In the morning they started into the direction of Eerde but were spotted by German observers from the Wijbosch church. A result was a heavy bombardment on 2nd Battalion with 88´s. A lot of good men were killed in this action, and a lot of veterans can still remember the terror of that bombardment.
A while later they found themselves in positions along "the Island" near Arnhem. On October 8th, 1944, Colonel Johnson, McGinley's commanding officer, was killed by artillery fire. These artillery clashes continued until late November when they were withdrawn to Reims, France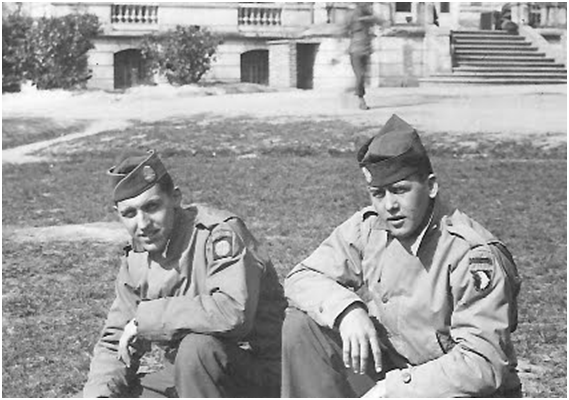 In late November, he and the 501st were sent down to Mourmelon Le Grande, near Reims, France, to rest and make repairs.
Battle of the Bulge: December 16th 1944 – January 4th 1945
After the break out in the Ardennes on 16 December, he was trucked into Bastogne with his 501st, ahead of the others, arriving on the evening of the 18th. He said the roads were continually blocked by retreating vehicles and advancing units. They had to jump out of the trucks a few times when German aircraft strafed them. On the morning of the 19th, he was deployed to the east toward Longvilly. 1st Battalion was fired on near Neffe, so Joe's company was sent towards the next village of Bizory.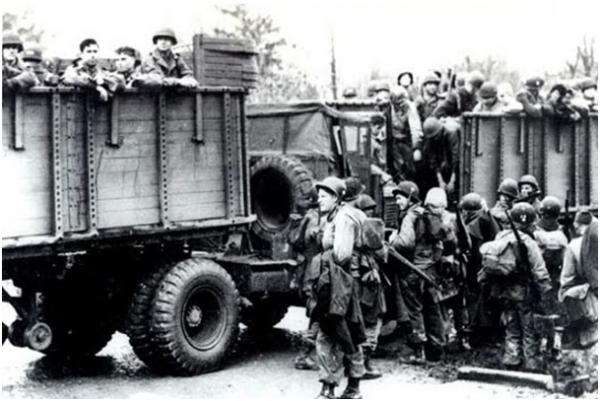 By noon, Major Homan's D, E and F companies took Bizory under fire from the same tanks in the nearby village of Neffe. Not stopping, they advanced to seize Magéret and a patch of woods directly north of the village trying to box-in the enemy tanks. Before McGinley's company reached the village, they ran into a German platoon coming at them. They called in mortars and artillery catching them in the open. Major Homan then sent Company F to seize the woods. McGinley's company was pulled back to defensive positions by nightfall.
At 0530 am the next morning Company F sent patrols east of Bizory where they again contacted the enemy. They saw enemy Tiger tanks, Mark IV, Mark V and self-propelled guns followed by a full battalion of enemy infantry.
At about 0730 Joe's company's machine guns and tank destroyers opened up destroying several Mark IV tanks and a German self-propelled gun causing the enemy to break off the attack. That night, the German's retaliated with incessant shelling on the 501st paratroopers. They followed up the next day with three attacks, but the 501st held.
Joe and other F Company men were sheltered from the cold in an old stone farm house near Bizory. One night about 0100, he and another trooper were assigned to night security patrol. Joe McGinley and a fellow trooper found and climbed into a disabled German tank. All was quite until he heard German machinegun bullets plinking off the outside and then incoming 88mm artillery. As they quickly climbed out and changed positions, the farm house started taking fire wounding some of the occupants. His CO thought it unsafe for F Company to stay there anymore because the Germans kept shelling the area.
Joe McGinley entered the church of Saint-Pierre to see frozen civilian dead stacked up in the aisles. He saw a holy card on a pew and picked it up. It had the name of a young Belgian boy who had just received his First Holy Communion in that same church. Being a good Catholic boy in a besieged town surrounded by the enemy, he figured it might help. He described the military aid station as being across the street in a basement.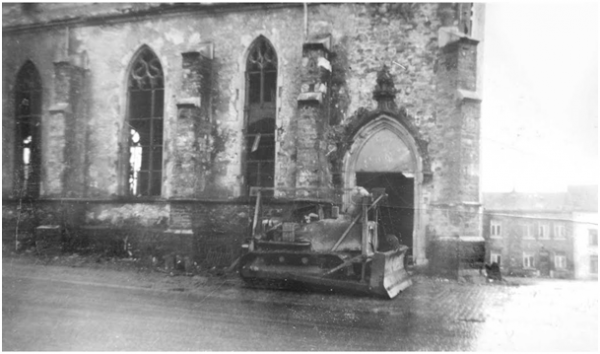 January 3rd and 4th saw more heavy fighting as Joe McGinley's 501st attacked north through the Bois Jacques forest as part of the push to close the Bulge at Houffalize. It was there along a railroad embankment that German 88's rained in on F Company. Joe McGinley was wounded and his friend was killed. He remembers being carried onto a jeep with frozen dead soldiers.
After being flown back to England and a long stay at the hospital in Hereford, Joe returned to occupied Germany as a driver for his commanding officer. He was initially stationed in Frankfurt Germany and later spent some time in Paris. Then he was assigned to the 756th Engineers who guarded German prisoners of war. That is where he met Henk Majoor who just had been liberated from a laborcamp. Henk Majoor joined the 756th to help out guarding the prisoners. A long-lasting friendship started. A friendship with a conidial situation 63 years later.
Screaming Duck member Robert van Ginkel was in contact with Guy Anhorn, Joe McGinley's nephew to help out in research for a dvd of Guy's uncle. As a result of these contacts Robert went to the states to meet Joe McGinley and some other 101st WWII veterans. In one of their long conversations Guy came up with a box of memorabilia from his uncle. One of the first items which he took out of the box was a postcard from Henk Majoor to his uncle. Henk Majoor sent postcards with pictures of his hometown Hilversum in the Netherlands.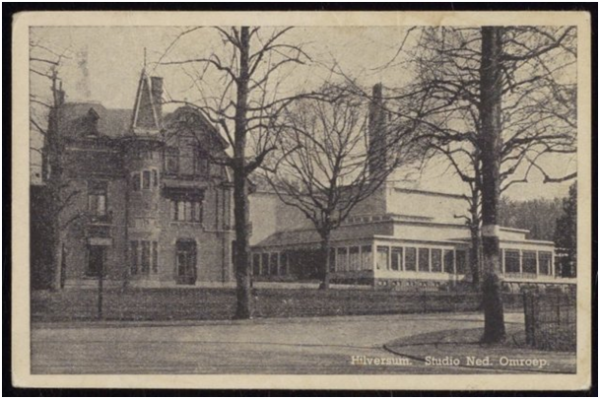 The remarkable fact was that the picture showed one of the radio studio's in Hilversum of the NCRV. That was the same building where Robert, who has worked for the NCRV, held office for a couple of years. His desk had a view in the opposite angle as to where the photographer was standing.
Coincidence??????
He returned to the states by March 1946 when he accumulated 52 points. He married his longtime girlfriend, Jane Bernardo. He worked for the Philadelphia Transportation Company as they raised a family of five children before his wife Jane passed away. Still residing in Philadelphia, Pennsylvania, Joe now enjoys the love of his family, children and great grandchildren. To this last days he still had his mementos from over 60 years ago; his parachute jump suit, Airborne dress uniform, German helmet, pistol, bayonet, Purple Heart and the communion prayer card of the young Belgian boy from Saint-Pierre Church in Bastogne.
With the help of a member of the Saint-Pierre Church, he located and contacted the Belgian boy, who was 73 at that time. He was happy to hear that his Holy Card made it to the US.
The story about Joe McGinley was put together by Guy Anhorn. Guy is Joe McGinley's nephew. Guy, a Vietnam War veteran, had to bide his time to get Second World War veterans to open up and share their wartime stories. But his persistence paid off.

For years, Guy Anhorn tried to coax his uncle, Joseph McGinley, to tell him about his war experiences that began with his first combat jump into Holland in September 1944 and ended with the German surrender in May 1945. McGinley served with in the 101st Airborne Division's 501st parachute infantry regiment (PIR).

But Guy got precious little information from his uncle.

While on patrol outside Bastogne, Belgium in January 1945, McGinley was injured by an artillery blast.
"He came back from the war and put everything in the closet and shut the door," Anhorn said. "My uncle got blown up and literally didn't talk about it for 60 years."

Finally after some years, McGinley, who lived in Northeast Philadelphia, pulled a cardboard box out of a downstairs closet at his house to show his nephew.

The box contained a treasure trove of personal WWII memorabilia, including letters McGinley sent home to his girlfriend, Jane Bernardo, and his mother who lived in the city's Olney section, his Army uniform and German soldiers' helmets, bayonets and other war souvenirs. A curious prayer card in French was also in the box.

But that was only a first step. Eventually, Anhorn began attending meetings of the 101st Airborne Association in Philadelphia to get to know some of the men.

"I literally had to drink beer with these guys for nine months before they talked to me (about WWII)" he said.

The fruit of the filmmaker's labors is "A Paratrooper's Story," a superb, well-researched 90-minute tribute to the local veterans.

Besides videotaping McGinley's recollections, Anhorn also interviewed another 501st paratrooper, Clair Hess, from King of Prussia; the late Lou Zotti, of the 502nd PIR, a Norristown native; Frank Facenda, a New Jersey resident who served with the 502nd PIR; and Meron Costroff, also a 502nd PIR paratrooper veteran from New Jersey.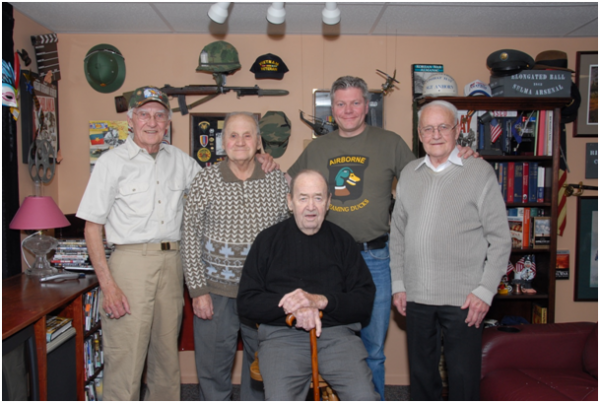 Guy Anhorn's "A Paratroopers story" is a very well researched and compiled tribute to those who have sacrificed so much in our liberation and freedom.